Here is a description of my install of a MAC #001-0808 4 into 2 exhaust system on a 1980 Honda CB650C. MAC states that this item is not meant for 650Custom's, but I had to try it for myself. First, here is a picture of my bike with it's butchered 4 into 4 system begging to be replaced: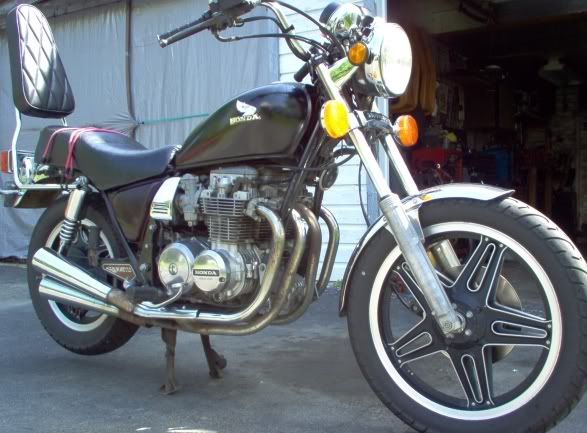 If you look closely, you can see that the original mufflers had rotted off. Someone welded makeshift collectors onto the ends of the downtubes and then shoved the rotten mufflers into those. I was ok with that last season, but this year I started thinking about making room for a decent sized set of saddlebags. This was a perfect excuse for me to upgrade my rigged exhaust to a 4 into 2 with turnouts. When I found the set that I wanted though, the description said '79 - 82 CB650(NOT Custom)'. What the hell do they mean, 'NOT Custom'? They don't list any other set for Custom's. What's the friggin' difference? One of the guys at work has a 'regular' CB650 and it looks just like mine, but with different handlebars and spoked wheels. I googled to see if anyone else had tried to use these on a Custom model, but found nothing. I found an eBay store that had the headers I wanted and asked the seller if he knew why why they wouldn't work on my bike. He said that he'd sold these pipes to customers with CB650Customs, but that he'd never heard back whether they fit or not. The seller was nice enough to offer me a modest discount on the pipes if I would be willing to document the installation for him so that he would be able to use it to answer any future inquiries. It sounded like a pretty good deal to me.
When the exhaust arrived, I opened the box right away and inspected the contents. The first thing I noticed was that there were no installation intructions included. I already knew from my pre-purchase research that I could find the instructions here:
http://macperformance.com/store/PDF/001-0808.pdf
. They're not great, but they do point you generally in the right direction, I guess
. The next thing I noticed was that inside one of the mufflers, at the rear of the baffle, one of the tack welds that hold it in place was burnt through leaving about a 1/4" hole: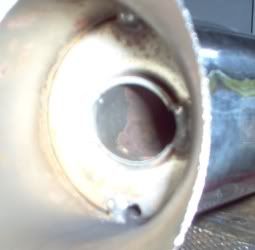 Great, it seems like almost everything I buy anymore needs to be fixed before I can even use it.
I expected a little more from a brand name like MAC and not made in China. Oh well... par for the course. They were bare metal on the inside too, which means they'll rot from the inside out... a little pre-rusted even. Other than that, the chrome was beautiful.
The next morning, I set out to install my shiney new exhaust. Because I had already decided that any clearence issues would be with the center/sidestands, I measured where they were at with my current exhaust. With an assistant (wife) holding the bike upright, I measured 5 1/2" from the lowest point of the centerstand (foot) to the ground. The pad attached to the stock muffler, where the centerstand rested, measured 8" from the ground. And the sidestand was about 7 1/2" from the ground. Knowing that the left side would be the most difficult because of the stands, I started there. I removed the old exhaust and installed the new, loosely at first, until everything was positioned the way I wanted it and then I tightened it all up. I took pictures of the new left side and the old right side together to show the differences:
Then I moved on to the right side and got it all bolted up. Upon starting the bike, I noticed exhaust leaks at both the flanges and the muffler clamps. Jeez! I had to be at work in 2 hours and I didn't wanna leave the bike home on such a nice day. I checked my Clymer manual for a diagram to see if there were supposed to be gaskets on the flanges. No luck. The exhaust section in there is very vague. But I found an exploded view on a website that sold parts for metric bikes, and sure enough, there's a copper gasket on the exhaust flanges. So I took the headers back off and used a sharp tool to scrape away some of the carbon to reveal a gasket. Then I pryed it out to have a closer look, destroying it in the process. They're very soft. If I hadn't torn it up so bad taking it out, I might've been able to get away with turning it around and using the side that wasn't imprinted with my old flanges.
So I got in my truck and drove to the nearest bike shop... 'Closed on Wednesday' Who'd ever heard of such a thing? So I drove to the next closest shop a few miles away... 'Closed on Mon., Tues., Wed.' . Am I missing something here (besides my exhaust gaskets)? I hopped back in the truck and drove around for about a half hour looking for an obscure little bike shop that someone had mentioned to me recently. When I finally found it, I was relieved to see some activity at the place along with a whole bunch of nice CB750's and the like outside... lots of vintage metal. This place would have what I needed for sure. When I walked inside, I was interrupting lunch. I felt bad for that, but I was in hurry and showed them the gasket I needed four of. One of the older gentlemen handed a box of gaskets to a younger man and asked him to look through it for me. I found out that motorcycle exhaust gaskets come in all sorts of shapes and sizes, but we finally found a matching set of four and confirmed with the older gentleman that they would work for my application. Back in business for $5! I grabbed one of his cards on my way out the door. These 'nuts and bolts' kind of shops are hard to find around here.